In this week's Intelligencer, MLG's lousy state economic data, Democrats' failed energy agenda, a risky Navajo energy play, MLG signs next year's state budget, and a new conservative Spanish news broadcaster.
The Intelligencer is a weekly newsletter that gives you a quick overview of La Politica across New Mexico and the U.S., covering topics such as policy, current events, the political landscape, and tech.
Send us any feedback (including chismes and quejas) by going to our website or shoot me an email at dax[AT]nmhispanos.com. And if you are not already subscribed, sign up here.

Dax Contreras
Executive Director, Hispanos Unidos
1.  In spite of MLG (or because of her) New Mexico has worst unemployment in the country
The impact: It comes as little surprise to economic observers that new information from the Bureau of Labor Statistics (BLS) shows New Mexico is the state with the highest unemployment rate in the U.S. at 5.9%.
Damage control: MLG is in full reelection mode, ignoring the negative economic data and continuing to touting her election-year-tax-cuts and promising individual checks to voters in the form of rebates. But New Mexicans will have a hard time forgetting that very early on in the pandemic in 2020, Governor Lujan Grisham began a wave of executive orders that shut down almost the entire state economy.
The big picture: "Follow the science" has been the battle cry of MLG and her ilk since the Covid-19 pandemic began, yet the mainstream scientific community prior to the COVID pandemic (including the World Health Organization) strongly opposed lockdowns and similar measures against infectious disease. MLG and other misguided leaders across the world imposed their heavy-handed lockdowns anyway, severe negative side effects be damned.
2. Democrats' failed energy policies
Details: The Biden administration (including Interior Secretary Deb Haaland) refuse to take responsibility for their self-imposed energy crisis. While gas prices have steadily risen for a year, Biden and his backers want you to believe that the Ukraine conflict is single-handedly responsible for the increase in gas prices - not the failed policies of the radical environmentalists that control the White House. Their propaganda falls apart quickly in one simple chart: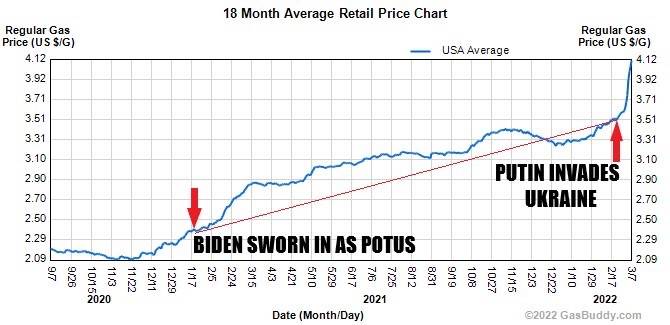 The Biden administration's shortsighted decision-making, including the sudden outreach to Venezuela and Saudi Arabia, make a lot more sense once you realize the Biden admin is completely beholden to a radical environmental agenda that demands Biden cripple domestic energy production. This is the foremost demand of the radical environmentalist, eco-activist base of the Democrat Party and why Biden said in 2020:
Meanwhile in New Mexico: The same radical environmentalist base that has significant power with national Democrats has just as much (if not more) sway in Santa Fe. It is why MLG made it a "priority" to pass SB 14, the so-called "Clean Fuels Standards Act", during the legislative session. The disastrous bill would have raised gas prices as well as the cost of groceries and other goods because of increased transportation costs. Thankfully for New Mexican families the billed failed to pass.
The big picture: MLG through no fault of her own dodged a major bullet when that bill failed to pass — but it failed to pass only because that same environmentalist base refused to go along with a last minute amendment to explicitly grant PNM the right to extend the use of the San Juan coal-fired power plant. As November approaches, voters in New Mexico would be wise to remember that the failed energy policies of many state and national Democrats are causing real economic damage to New Mexican families. And tragically, that economic burden is a regressive tax that ultimately hurts poor families the most.
3. Navajos place bet in risky energy play
The deal: Navajo Transitional Energy Company (NTEC) has invested in another energy company, Enchant energy Corp., that is hoping to convert the San Juan coal plant to be able to capture carbon emissions that would be shipped through a pipeline to storage sites around the state and Texas "where it could be used to help with oil production."
Not so fast: Navajo environmental group Diné C.A.R.E, says such carbon capture projects have failed elsewhere in the country, "This does not sound like a financially sound or profit generating investment for a tribal corporation," said Robyn Jackson, Diné C.A.R.E climate and energy outreach coordinator.
But wait, there's more: When the company was formed in 2013, it was by legislation approved by the Navajo Nation Council, which mandated that the Navajo Nation be directly involved in its oversight and management through five member representatives. Two of those members,  Brown and Charles-Newton, both said they did not know about NTEC's investment in Enchant.
4. MLG signs budget boosting state spending by $1 billion
Background: Yesterday Governor Lujan Grisham signed off on a $8.5 billion spending plan for the coming year that will boost the state's spending to record levels.
Details: The budget plan will boost state spending by roughly $1 billion — or 14% over last year's plan. The state government spending spree, powered by oil and gas, also "approves $55 million for law enforcement officer retention and recruitment bonuses and earmarks $130 million of unspent federal relief funds to bolster a lottery scholarship program so that college students who qualify would have all tuition costs covered for the next four years."
The big picture: The state's coffers are flush with oil and gas revenues, and while MLG and her radical environmental supporters love to hate fossil fuels, they are more than happy to take the funds they provide to pad the pockets of her benefactors and spend it in ways that give her political cover in what is expected to be a tough election cycle for Democrats.
5. 

New conservative Spanish language broadcaster a sign of the times?
The details: America's first Spanish-language conservative network, Americano, launches Tuesday morning on SiriusXM radio, and streaming this summer on TV. Americano will offer a mix of news programming and commentary. The move comes as more Hispanic voters are drifting away from the Left.
What they're saying: "They're scared. And they should be," American CEO Ivan Garcia-Hidalgo said of Democrats in an interview. "Democrats took Hispanics for granted for too long, and no one thought to create a home for us in conservative media. There is an appetite for this. You see it on social media. You see it in elections."
The big picture: The network has close ties to former President Donald Trump's campaign and former Florida Gov. Jeb Bush. Clearly Americano's pitch is to target an underserved market of Hispanic moderates and conservatives.
Do you like this post?